welcome
We are a small shop near central London that specialises in repairing all types of bicycles. Our main work is on commuter and utility bicycles and though we do not carry a lot of parts for upper-end bicycles we do work on them. Hub gears do not daunt us; neither do drum brakes, fully-enclosed chains, disc brakes or suspension.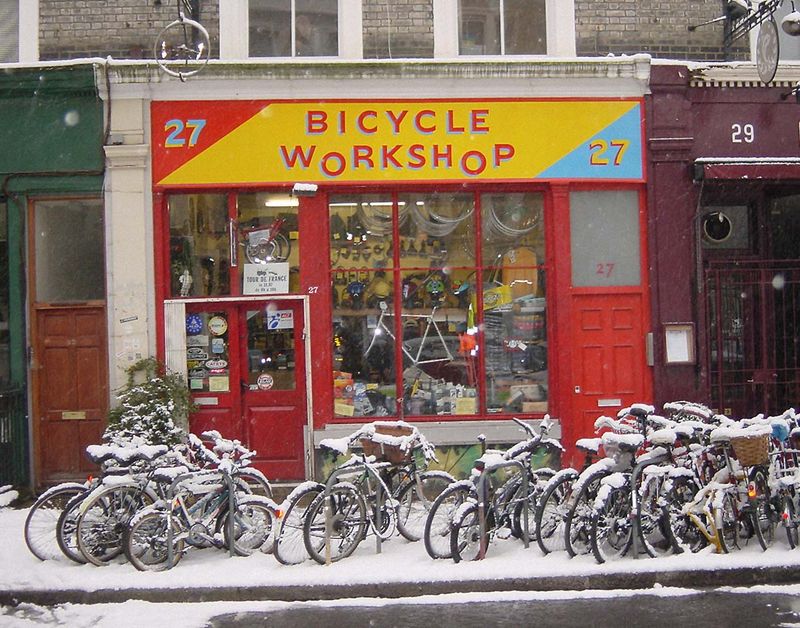 Alongside that work we have developed a niche in harder to find parts and accessories. We also specialise in some of the lines we like that are not standard in every shop. We have an extensive range of dynamo lighting, Sturmey Archer hubs and spares and carry in stock every Brooks saddle available in the UK. We do also stock the more usual lines in the hope that every one who comes in will leave with the bits they want.
We used to be a bicycle shop that did not sell bicycles; a more recent development for us has been to start selling bicycles. In keeping with our approach to spares we have not gone for the readily available bicycles (we don't have the space anyway). Don't bother to email for our price for the more widely available lines; we offer the Brompton Bicycles and Pashley range to order.
Also - we are pleased to give help and advice on choosing and setting up your bicycle, even if you did not get it from us. This is easier to do if you can come to the shop with your bicycle or if you have a general enquiry you could try the link to the WhyCycle website which gives excellent impartial advice. If you can't find what you want or want to talk to a person you are always welcome to contact us.
May Public Holidays
We will be closed on the Tuesday after the May public holidays.
May 2nd and May 30th
opening hours
the shop is open
Tuesday to Friday from 10.00 till 6.00
Saturday from 9.00 till 5.00
(and we close for lunch from 2 to 3)
Saturday repairs, be here at 7.30
Repairs / Service
If you want repairs done on a Saturday I start checking bikes in at 7.30, people start queuing before and we can be full soon after I arrive.
On weekdays we book in full services and are usually booked weeks in advance. There can sometimes be cancellation spaces, telephone us and ask.
Public Holiday
On the weekends when there is a Monday off for a public holiday we are not open on the Tuesday.
address
27 All Saints Road
London
W11 1HE